This blog covers the experience of the Post-ICU team during the Life Sciences & Health Trade Mission in Toronto, Canada. During this trade mission, our team attended round table discussion, visited interesting healthcare organizations, and mingled in networking events. Jurriaan van Rijswijk, President of Post-ICU, eagerly shares his experiences!
Day 1 Monday, October 2nd
This day was all about travelling. In the late afternoon, the team arrived in Toronto. They spent about half an hour in their hotel room, and then they were off to the consulate for a dinner and welcome from the delegation in the garden of the residence. Jurriaan mentions that it was a "lovely group and beautiful weather. Afterwards, we went straight to bed. Get some sleep, and tomorrow, we'll be fresh and lively again."
Day 2 Tuesday, October 3rd
"Well, we're back among the living!', Jurriaan proclaimed proudly. "Last night, I slept like a log for 9 hours straight from 9:00 PM to 6:00 AM. 
Today's agenda includes getting to know Toronto and visiting the largest hospital system in the city. After a good breakfast, we set out on foot at 8:30 AM to the Ontario Investment and Trade Center (OITC), which is like a crossover of a Chamber of Commerce and a World Trade Center, all designed to stimulate business. Ontario is a province in Canada. The OITC is located on the 35th floor of a massive skyscraper in the heart of the city.
We were welcomed into a gigantic boardroom with an amazing view of the city, complete with presentations on the business and trade climate in Ontario. There are plenty of incentives (funding, tax holidays, and workspace) for companies like ours if we were to consider setting up here. It's quite funny that you can see the CN Tower from wherever you are. It's a 553-meter-tall needle on the edge of the city center and Lake Ontario.
After lunch, we took the tram to Hennick Bridgepoint Hospital, which is part of the Sinai Health System, the largest healthcare cluster in the Toronto region.
There, we received a presentation from Dr. Samir Sinha, a clinical geriatrician, who provided an insightful overview of how healthcare, particularly for the elderly and chronic patients, is structured and organized (or not) in Ontario. They seemed to envy the way we organize these things in the Netherlands.
The way we are organized with the Long-Term Care Act, the Social Support Act, and the Health Insurance Act would be a solution for many people here. Currently, such acts are not in place. We were also told that the healthcare system here is even more strained than in the Netherlands. An opportunity for the Post-ICU diary to support people! The Hennick Bridgepoint Hospital, at least, has everything perfectly organized. They even have ICUs specifically for geriatric patients and ICUs for COVID patients.
Tomorrow, we'll be introduced to the newest ICU in Toronto at Mount Sinai Hospital. Hopefully, we can visit there tomorrow or on Thursday for our first meeting. For us Dutch, it was a bit strange to learn that both Canadians and Americans seem to live more in the moment. It's easier to make an appointment today than plan something for in a week or two. That's something we're getting used to as well. So, we're learning a lot about the culture here, too.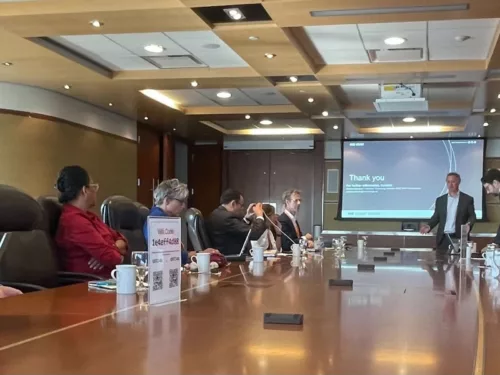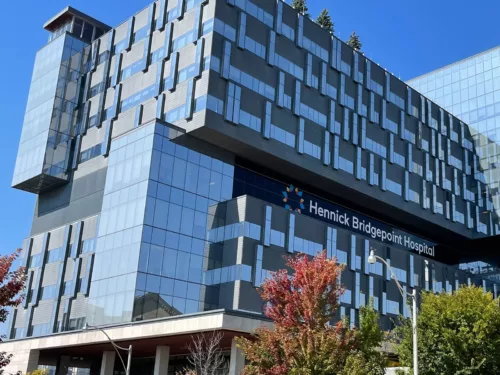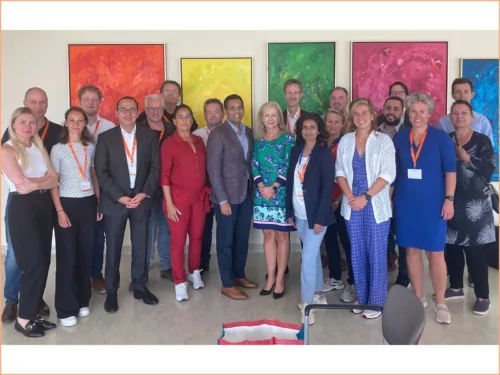 Day 3 Wednesday, October 4th
This morning, Sandra [Post-ICU's Treasurer] and Seth [Post-ICU's CEO] started the day with an update to the investors of Post-ICU – BOM, INZET, and us at Games for Health. So, we began by working from the hotel with colleagues, clients, and partners in the Netherlands.
The most important meeting today in Toronto was after lunch. We paid a visit to the University Hospital Network (UHN). Each participant had the opportunity to introduce themselves and pitch why they were here. After this introduction round, we could make one-on-one contacts with the UHN attendees.
As a result, we established a couple of interesting connections at UHN. They will introduce us to the individuals responsible for the various ICUs they have. 
After the meeting with UHN, we walked to Victoria University for a film about the aging of all people on Earth and the economic and health consequences. 
The day concluded with a networking event, where each participant of the trade mission had their own table to meet with people we had invited ourselves and those invited by the consulate. It was well-organized, and we made some valuable connections. We also received an introduction for a meeting with ICU and Invest Canada, which have partner programs for companies like ours. Eurostar is often mentioned as a way for European companies to collaborate with Canadian hospitals.
Day 4 and 5,  October 5th and 6th
Yesterday (Thursday), the Post-ICU team began with their usual work with colleagues, clients, and partners in the Netherlands. Then, later in the morning, the program started at 10:30 AM, beginning with a walk through the city to the first destination: the kite institute. Not for kite surfing, but to test everything that can go wrong. It was super interesting to see.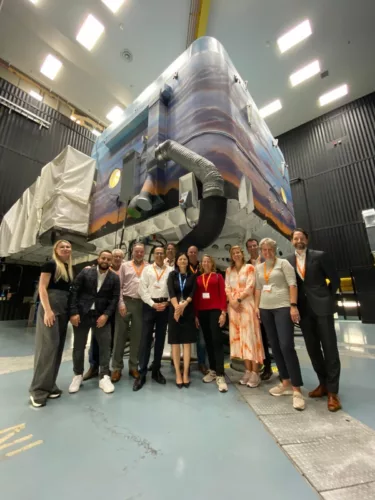 There were lectures on the process of taking an innovative idea to eventual use by patients. It's a process we've gone through ourselves, but there were still some valuable insights here.
Afterwards, the team took a bus to Sienna Health, a publicly traded company in Canada that provides a pleasant and happy life for the elderly and people with chronic conditions. For somewhere between $5,000 and $12,000 per month. Jurriaan: "Not a bad deal, right? It's like a 'Nursing Home as a Service'."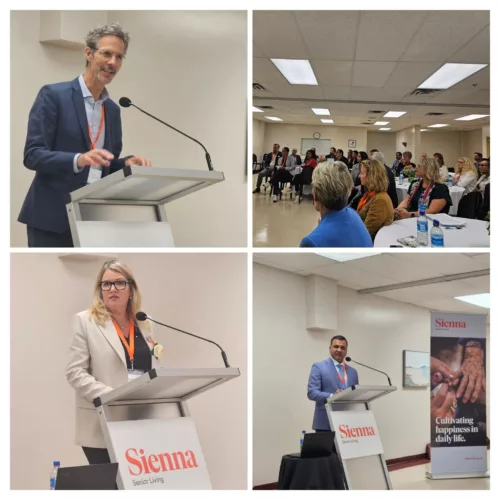 A meeting was organized for the Dutch delegation, and the Canadian Minister of Health was also present. Originally from Korea, we quickly taught him how to pronounce "Guus Hiddink," since he's somewhat known as 'the Korean national hero'. There were other guests as well, including the President and CEO of a large hospital in Toronto with a 50-bed ICU. And there was no shortage of interest in Post-ICU.
After the visit, Jurriaan and the team went to a very nice restaurant with Indonesian-Dutch roots with the delegation. We were delighted to see a Dutch dish on the menu: "patatje oorlog", translated as "war fries" among other things. But also dishes with Brussels sprouts and cauliflower. Quite funny and delicious.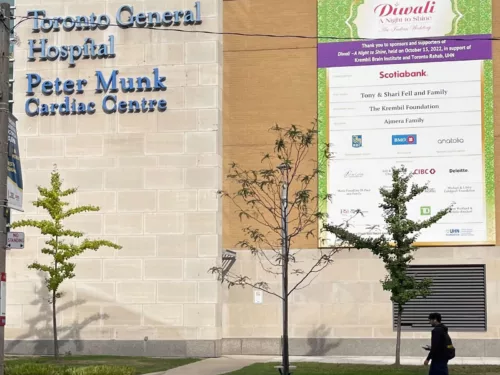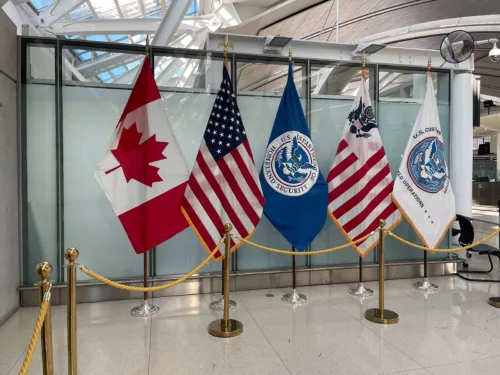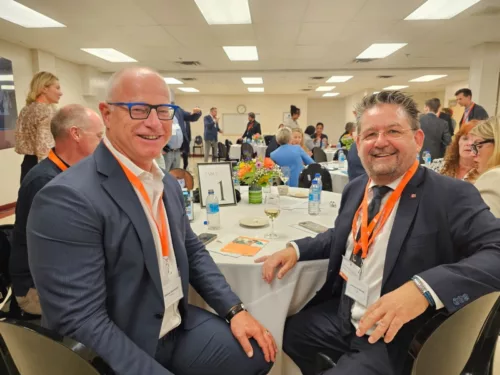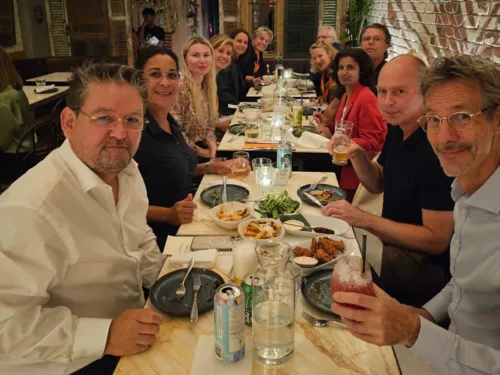 Finally, on Thursday evening, the team packed their bags. On Friday morning, they got up early to be ready at 8 AM for a taxi to the airport. Jurriaan was glad that they were able to move so swiftly through the airport. "We made some calls along the way. Everything was deserted. Monday is Canadian Thanksgiving. So, we went from the check-in counter, through security, and border patrol to the gate in half an hour. We sat and worked while waiting to board our flight to Boston." 

That's right, up next was Boston again, this time to attend the Planetree International Conference on Person-Centered Care, which Post-ICU is also sponsoring.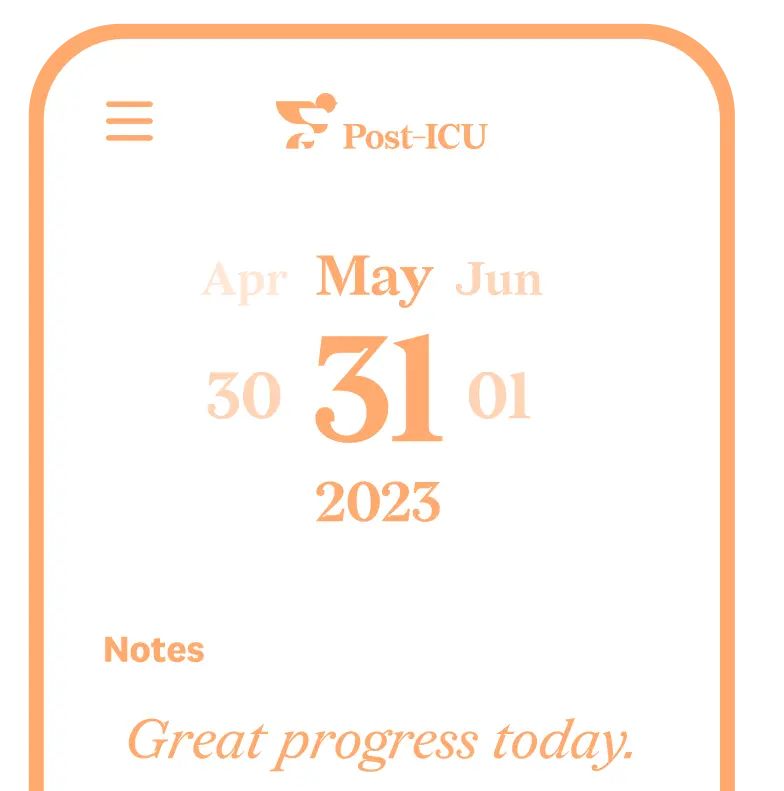 Want to learn more about the Post-ICU digital diary?
Book a meeting with one of our experts today.